Zero Interest* Program giving you a BETTER™ way to finance your travel.
Zero Interest* Program giving you a BETTER™ way to finance your travel
Why is it Better?
As per the examples to the right of a family of 4 booking an all-inclusive trip, it clearly demonstrates the total eventual costs via different financing methods and theZ.I.P.difference.
How it Works
One Time Low Financing Fee – No Ongoing High Interest* – No Surprises
Finance your travel over 3, 6 or 12 months with Zero Percent Interest.*
Defer your payments or pay in equal monthly payments* and simply pay a one-time finance service charge.**
How Do I Qualify?
Through a simple and secure agent to consumer process, you can be qualified in a Z.I.P., making the qualification, payment and booking process a breeze.
Don't Delay Your Dreams, Just Your Payments*!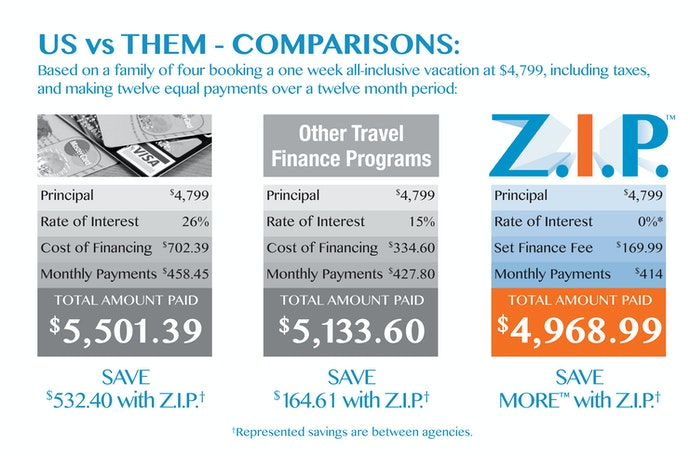 Payments tailored to your needs
Flexible Financing
Our Canadian financing partner, Flexiti helps power theZ.I.P.program, offering a simple, instant and more affordable way to travel.
Quick and Easy
Flexiti is 100% paperless, which means no paperwork, scanning, signing or mailing. Plus, get approved in less than 3 minutes*!

Manage Your Payments Conveniently
Make payments quickly and easily using your own online banking account v

Have questions?
Call Flexiti at 1-877-259-3745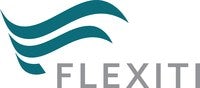 TERMS & CONDITIONS
*O.A.C. Subject to terms of your Flexiti cardholder agreement. Offer valid for residents of Canada (excluding Quebec). For no payments deferred plans, no payments are required during the promo period, except for payment protection insurance premiums and taxes, if applicable, which are billed monthly. Interest at the cardholder agreement annual interest rate (Account AIR) accrues during the promo period and will be charged if the balance is not paid in full by the promo expiry date. For equal monthly payment plans, no interest will accrue during the promo period and monthly payments include premiums for payment protection insurance and fees, if applicable. If any payment is missed, the promo offer may be cancelled and upon cancellation, interest will be calculated at the Account AIR. Initial Account AIR is disclosed upon approval, varies based on cardholder's creditworthiness at time of application. Current Account AIRs are 31.99% and 37.99%. Any balance at the end of the promo period bears interest at the AIR. Admin fees apply and will be financed with purchase; fee amounts are based on purchase amount and promotional term length, ask a sales representative for details. Promos and terms may be changed without notice. Conditional upon ID verification and on approved credit and valid email address required. Applications may be subject to a secondary, manual review. Financing provided by Flexiti Financial. Flexiti and the Flexiti design are trademarks of Flexiti Financial Inc.
**An annual fee applies to your account in accordance with your cardholder agreement but may be waived depending on the merchant at which you applied for your account.
Contact Gravitate, your travel professional to start planning your next vacation.