Find your next family vacation.​
Find your next family vacation.
Your next family vacation awaits
The footprints in the sand may fade, but
the memories last forever.
You may have been on a family vacation, but when's the last time you went on a family adventure? One where both parents and kids embraced new and exhilarating experiences together? Where you not only witnessed your children learn something new but you found yourself learning right alongside them?
Maybe you're a family of beach bums who want to hang out on sparkling sand all day long (with children equally entertained at an amazing kids' club) at an all-inclusive family vacation resort at your favourite southern destination—whether it be in the Bahamas, Hawaii or Mexico. Or maybe you want to adventure to a country that none of you has seen before, or even to tour your children through your country of origin for the first time, there's nothing like creating special memories together. The footprints in the sand may fade, but the memories last forever.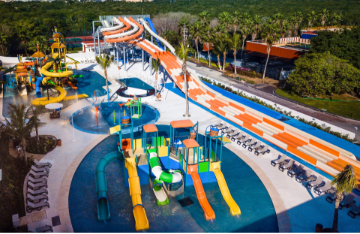 Isn't it time you started expecting more from a family vacation? Think of the things your family can do together:
Slide down from bedroom to family room in a two-story cabin aboard a Royal Caribbean Cruises Quantum of the Seas
Watch your children learn to play football with Maasai tribesmen in Kenya
Eat homemade gnocchi with a local Nonna in Italy, then take a private tour of your ancestral region
Go on a chocolate tasting tour in the world's best destinations from Austria to Switzerland
Engage the kids in history with a treasure hunt through Paris ending at the Louvre
Watch your six-year-old's face light up to meet Minnie Mouse at one of Walt Disney's global family parks
Treat your teenagers to cultural enrichment with a tuk-tuk ride through the streets of Bangkok
Make history come to life as your children test out a gladiator adventure in Rome
At Gravitate, we welcome families of all types to adventure with us. Welcome, grandparents, aunts, uncles, family friends! We even welcome challenging, hard-to-please teenagers. So, let us get to know you and your family. Tell us about your past adventures, your bucket lists. We've helped dozens of different types of families identify the family vacation destination that's right for them, and our trusted travel partners are always sharing new ideas for the best family vacation spots.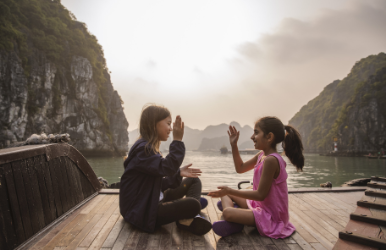 Are you looking to plan a family trip to Europe? To Israel? To Thailand or Maui? Or maybe you're just planning a family vacation to Disney World. We've crafted itineraries that are so tailored that our families return to us time and time again for their next adventure. They've even reported tales of teenagers smiling from the moment they get off the plane. And entire families willingly tucking their tablets and smartphones away for later! We're not surprised—that's the Gravitate difference.
Find your next adventure with one of our travel professionals today.