Now more than ever, having a personal travel professional in your corner can make planning your next trip safer, easier, and more chill. Here's how.
We know you've done it: walked by a travel agent office scoffed, "Who still uses those?" Between AirBnb, Booking.com, Google Flights, and Uber, you've got it all covered right? Wrong.
Having a personal travel professional you trust means getting the answers and solutions you need for the best trip. And navigating a new world of pandemic travel means a host of new concerns.
Case in point: on a recent trip to Ecuador and Mexico, Scott at Gravitate suggested COVID-19 travel insurance. "Oh right!," I thought. This is not a normal time to be travelling and it requires more planning and precautions than ever before. But where to begin? What sort of coverage do I need? Scott got in touch with Manulife (the only provider of this type of insurance, which I also didn't know), secured the coverage I needed, and the policy was in my inbox within minutes.
QUESTIONS ABOUT TRAVELLING NOW?
Where's the safest place to travel right now? And what's a must-avoid? What do you do in case of an emergency? What if your flight is cancelled? These are the types of questions a personal travel professional can answer for you.
We've been living in an era of DIY travel planning: online flight bookings, short-stay accommodations, and lots of Googling. (Fun fact:  Even Google Executives use a travel professional). But we now face a brave new world of travel.
Having a personal travel professional means more than simply having someone to book your flights and accommodations. It means having a person on your side who is passionate about travel and has faced all the hurdles. They are also staying up to date on all the news from destinations around the world. And are here to help from the time you decide to take a trip until you're safely home.
CHANGE IS HAPPENING FAST. WE CAN HELP YOU KEEP UP.
This country is open to tourists. That one is closed. This one requires a two-week quarantine. That one has seen a spike in COVID-19 cases. It can be hard to keep up. A personal travel professional from Gravitate can help.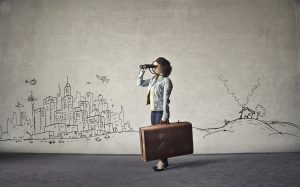 Recently, Forbes magazine perfectly articulated 5 reasons why having a personal travel professional is more important than ever. Some of them involve staying safe while a pandemic still looms, and others are simply about having the best time possible. Let's break them down.
1. IN CASE OF EMERGENCY
You don't want to worry about all the things that could go wrong on your trip. That's what a personal travel professional is for. And this is more urgent right now than ever, as we experience unprecedented times and more concerns around travel than ever before. From the pandemic to natural disasters to civil unrest, there is no shortage of events that could cut your vacation short or make it harder to get home. But they're ready to do what needs to be done to get you home as soon as possible. And did you know by law a personal travel professional must offer travel insurance, which is more important now than ever?
2. EXPERT ADVICE FOR THE BEST EXPERIENCE
Every destination has its best-of and its best-kept secrets. A personal travel professional knows them all. Stay in the best hotels, eat at the best restaurants, and experience the best of every destination. Gravitate's team of experts, each specializing in different areas of the world, can craft your unique vacation based on your style, needs, and budget.
3. GET THE VIP TREATMENT
It helps to know the right people. Gravitate has been doing this for a long time, so they have made a lot of friends over the years and around the world. That means trusted connections at some of the most fascinating and sought-after travel experiences on the planet. And that also means you now have access to these connections as well.
4. EXTRAS! EXTRAS!
Ever see other travellers get better seats and suites and wonder how they do that? Well, from seat upgrades to room upgrades, plenty of travel service providers offer their extras to customers with whom they have longstanding, friendly relationships. And those benefits ultimately come to you in the end.
5. THE BEST PRICE POSSIBLE
With so many online agencies and sites offering the "best airfares," you can spend a lot of time click-click-clicking, without ever being sure you're getting the best price. At Gravitate, they do all the heavy lifting for you, finding the best fares, and informing you of all the terms and conditions (and what they all mean!)