Gravitate's Scott Waldron had the unique pleasure of boarding the Rocky Mountaineer for an awe-inspiring train ride through Canada's Rocky Mountains. Here's how it went.
Luxury train travel often feels like an extravagance of a bygone era. But companies like Rocky Mountaineer have ensured this experience isn't going anywhere – as a new generation of travellers is looking to take advantage of the wonders and relaxation.
On board the Rocky Mountaineer, there's no waiting at the airports and no traffic jams. All you need do is watch the stunning scenery pass by – preferably while sipping an artisanal cocktail. And that's just what Gravitate's Personal Travel Manager Scott Waldron got to do recently. Luckily, he kept a travel log of his experience on board.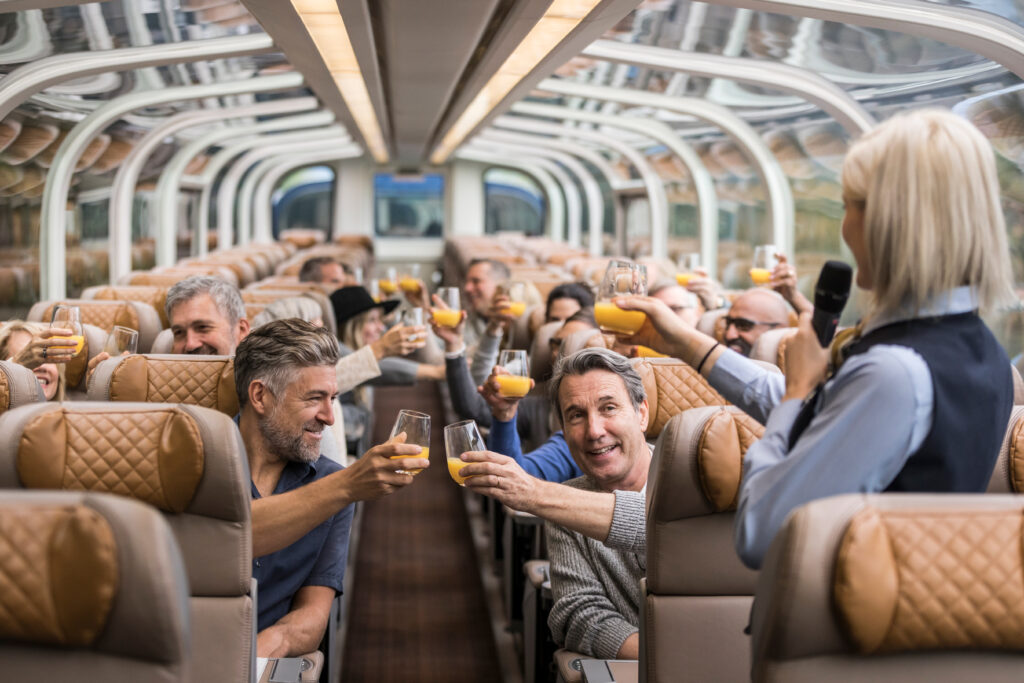 DAY 1: Vancouver to Kamloops
Our journey begins in Vancouver (after a flight from Toronto and overnight stay.) We board the Rocky Mountaineer, at 7:30am, on a cool Monday morning at Vancouver's Rocky Mountaineer station, greeted by a Scottish bagpiper and a red carpet. 
Our three-day journey, First Passage to the West, will take us from Vancouver, through the legendary Spiral Tunnels, across the Continental Divide, through mountain passes and dramatic canyons, stopping in Kamloops and Banff before arriving in our final destination, Calgary, Alberta. And, we're on our way, as the entire station staff (including owner, Peter Armstrong) waves us off from track level.
SILVER OR GOLD?
While there's no bad seat on board, we opted for the GoldLeaf Service. That means we're seated in the bi-level coach with a striking all-glass domed ceiling. Essentially, we feel entirely immersed in the wilderness. As if that wasn't enough, we also get to enjoy the chef-made cuisine for breakfast and lunch in the lower-level dining area. More on this to come!
(SilverLeaf Service is no slouch either, with full-dome windows and gourmet meals from the comfort of your seat.)
HAVE A SEAT
Once we're on board, we spend the entire day on the train, not arriving in Kamloops until the early evening. So, unsurprisingly no expense has been spared when it comes to comfortable seating. They feel like executive-class airline seats, with plenty of space to relax. (This also makes it easy to get in and out of your seat, without disturbing anyone else on board.)
Each chair is heated, with lumbar support, electrical and USB plugs, and leg support if you want to take a nap. The coaches are also wheelchair accessible and there is an elevator for easier access to the GoldLeaf's second-floor coach.
At each seat is a copy of MilePost, which details all the mile markers along our (and every) route. So, not only can we witness these beautiful sites, we can learn about some of the rich history and facts about what we're seeing.
FOOD FOR THOUGHT
The Gold Leaf Service food is next level!  A locally inspired and sourced menu is freshly made on board and there are plenty of options to choose from for breakfast and lunch.  One of today's many options for breakfast is fresh sourdough with avocado, pico de gallo, mushrooms, and tomatoes – all while seated in the lower-level dining room.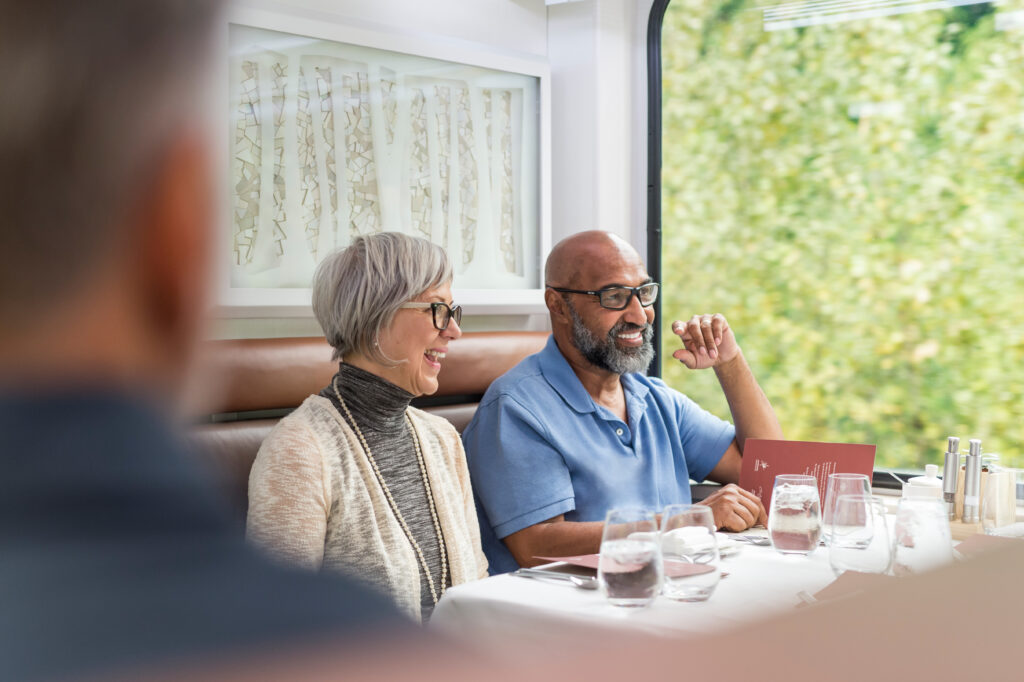 EVENING ARRIVAL
At around 6pm, we arrive in Kamloops. This is not like a traditional European train or the Bellman Orient Express where you stay on board and have a cabin and shower. Here, everyone deboards and we spent the night at the hotel, which has all been arranged by Rocky Mountaineer.
We stayed at the Sandman Signature Hotel.  When we arrive, check-in is already complete, and we find our bags already in our room. Then the evening is ours to enjoy dinner and cocktails in Kamloops.
DAY 2: Kamloops to Banff
Then the next morning, we're up early to head to the station for another day on board. As we depart, the sun is peeking out and we're enjoying breakfast in the dining room. Today: pancakes with berry compote, all made to order by the eight on-board chefs. No warming stations here.
Breakfast is served twice throughout the morning, alternating for passengers each day. So, since yesterday we had the early breakfast at around 8am, today it's the later one at 10-1030am. (And it's the same with lunch as well.)
YOUR DAY, YOUR WAY
By now you might be asking, "What do you do on a train all day long?" And that's a great question with an even better answer: whatever you want!
Some people take the time to read, or get some work done, while others are simply lying back and watching the breath-taking scenery. Some fellow passengers are simply knitting. Another is a watercolourist, who is painting the landscape and wildlife as we pass by. Our onboard host also takes time throughout the day to tell fascinating details about what we're seeing outside: geology, wildlife facts, and Canadian history. And throughout the day, the lovely staff on board stop by our seats with snacks and cocktails.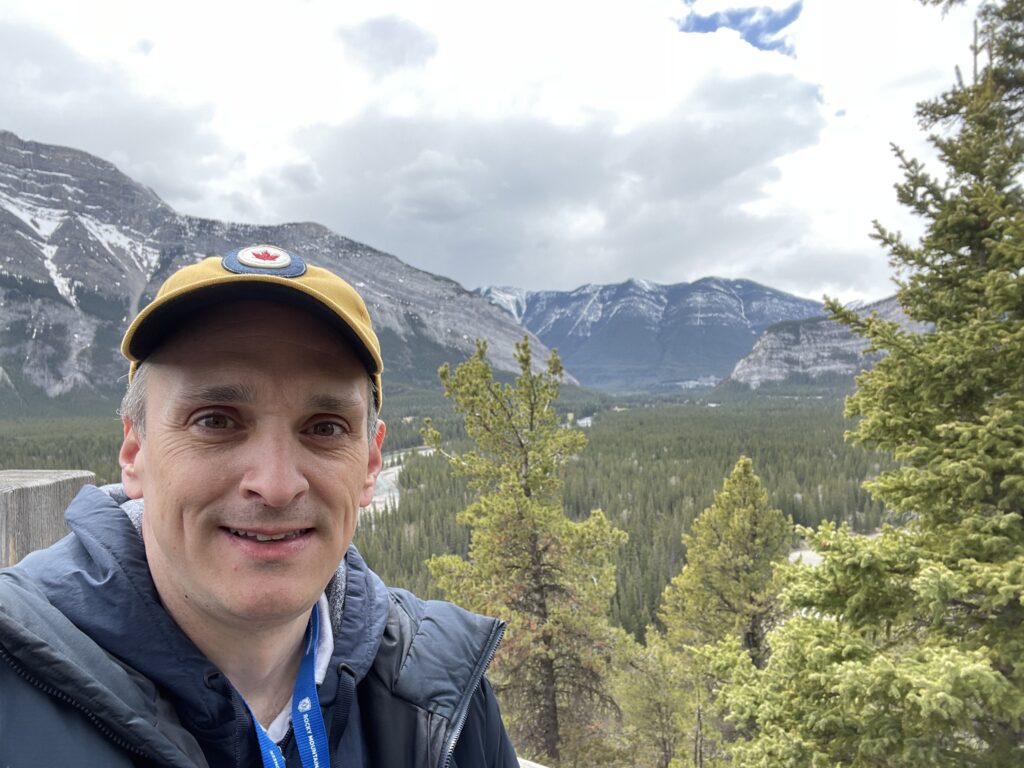 ROOM WITH A VIEW
Now, this is the big difference between GoldLeaf and SilverLeaf: the outdoor viewing platform. It can easily fitabout 12 to 16 people. And you can head out here whenever you want a breath of fresh air, to feel even more immersed in the landscape, or take some photos.
As we move along, we pass by some historic sites, charming little towns and villages, stunning scenery like Devil's Gorge, and wildlife. We see a black bear, cranes, deer, rams, and a very rare white bear which indigenous people call a spirit bear.
And this is why everybody's going on this trip: They want to see the Rockies. They want to feel like they're in the middle of it all!
WELCOME TO BANFF
How do we know when we're getting close to our next stop? The aroma of freshly baked cookies, which the chefs prepare and bring right to our seats. We arrive in Banff, Alberta at around 5:30pm on Tuesday and it's time to say goodbye to our time on board the unforgettable Rocky Mountaineer – but our adventure isn't over yet. Tonight, we stay at the very charming Moose Hotel and Suites. We arrive to a cozy fire in the lobby's fireplace and a perfect place for a good night's rest before a big day tomorrow.
 DAY 3: Banff
The following morning, we're up early for our Brewster Sightseeing Tour of Banff, all part of our Rocky Mountaineer itinerary.
Our full-day excursion around the area brings us to some remarkable sites, including the striking Emerald Lake, and even though it is frozen you can already see hints of its signature green colour. From there it's the ethereal Takakkaw Waterfalls of Yoho National Park. And we stopped by the iconic Lake Louise, and since it was frozen, we were able to walk right on it. Upon returning to downtown Banff, we were able to explore its shops and restaurants.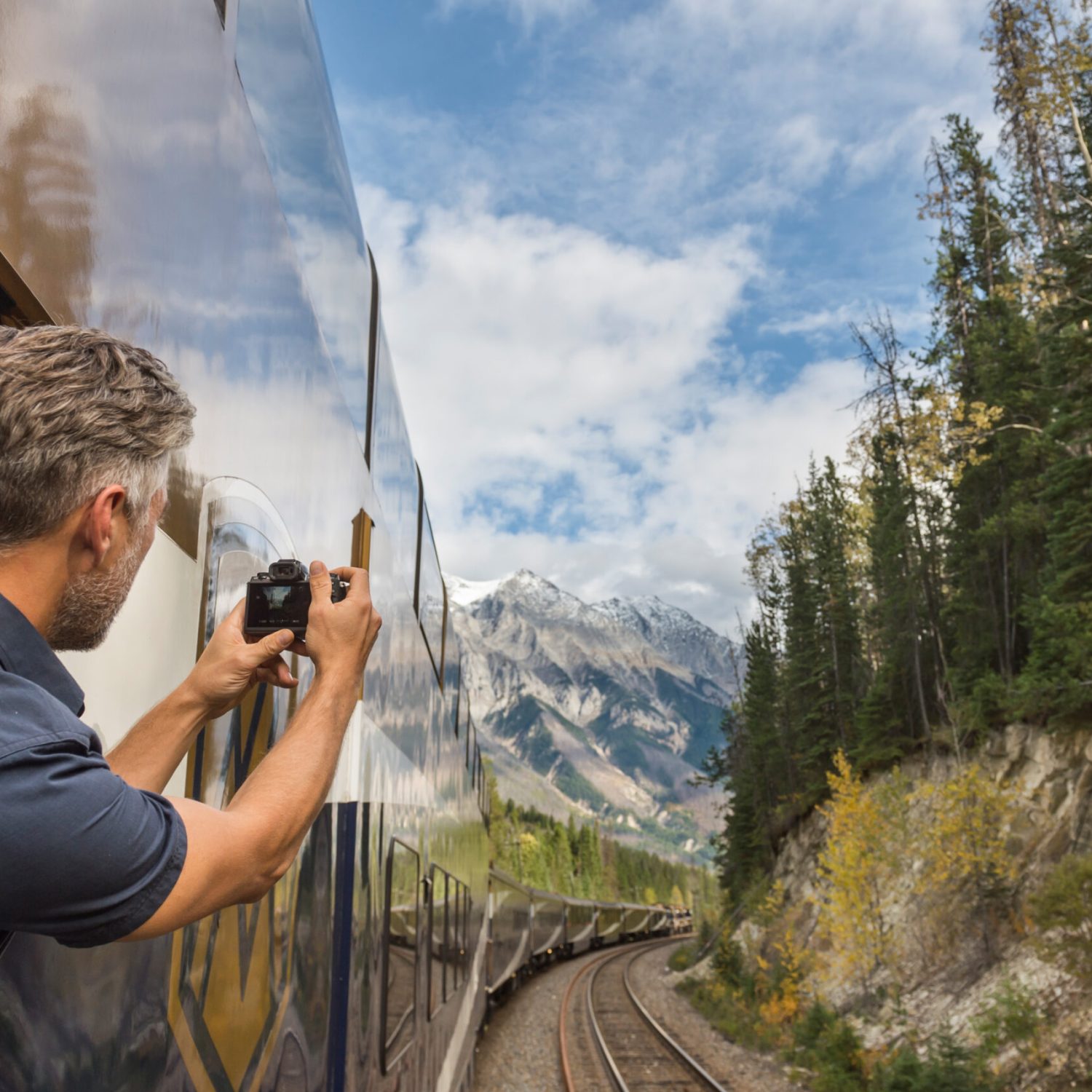 From here, Rocky Mountaineer arranges for our journey to Calgary for our last overnight in the downtown area, and the next morning our flight back to Toronto. The end of an incredible experience and a total understanding of why this is a bucket list trip for so many of our clients. The chance to experience some of our country's most beautiful regions in their unspoiled splendour, all in luxurious comfort. We're always on board for that.